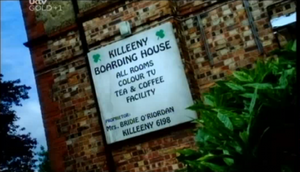 The Killeeny Boarding House was a Boarding House in Killeeny in Ireland. It had a tea and coffee facility and all the Rooms had Colour TV. Its Proprietor was Bridie O'Riordan. George Sunday stayed there for a while when he saw a news broadcast of him as Thermoman saving Janet Dawkins from falling into the Grand Canyon, he fell in love with her and went to Northolt to see her. (My Hero (TV story))
Ad blocker interference detected!
Wikia is a free-to-use site that makes money from advertising. We have a modified experience for viewers using ad blockers

Wikia is not accessible if you've made further modifications. Remove the custom ad blocker rule(s) and the page will load as expected.